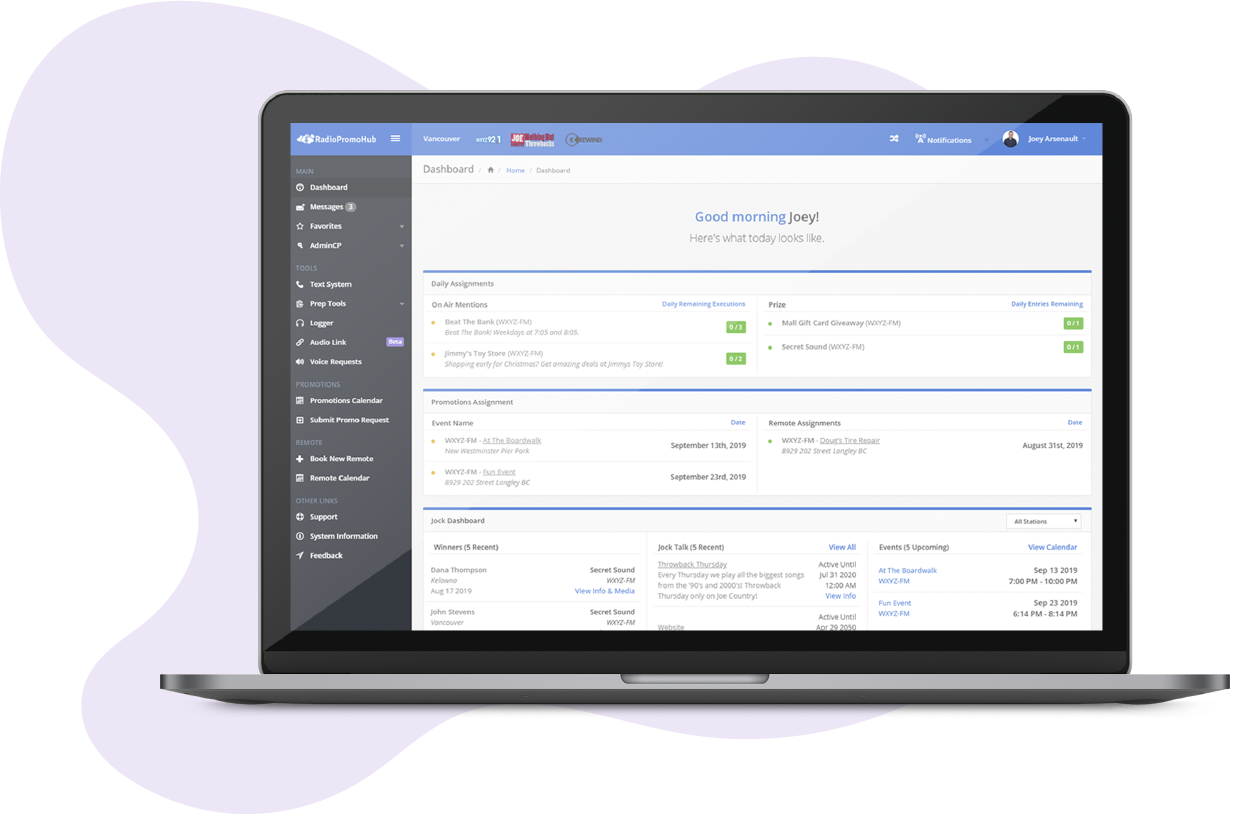 A Workflow System for Radio
Creative, Promo, Texting.
All in one Place.
A unique and beautiful workflow system for radio stations. Stay on top of everything promotions and creative. Make your competition wonder how.
Built For Radio
An amazing tool for radio stations to stay organized,
increase revenue and efficiency!
Engage with your listeners using RadioPromoHub's texting software. Text winners when prizes are ready, manage contest entries with keywords and save your favourite texts for your shows!
Know who is calling, banned from winning prizes or a great caller before answering your phone! Control your Telos Phones, Create Calling Queues and more with RadioPromoHub Phone Screener.
Create campaigns for your clients and see everything for that campaign in one place. Track your campaign progress to ensure it starts on time, and get notified when its about to expire.
Create a prize qualifier list and start collecting information about your winners. Have RadioPromoHub select a random winner or pick a winner from your list. Easily convert the qualifier to a winner.
Build your show all within RadioPromoHub's Prep Sheet Builder. Link posts from your favourite websites, on air mentions, prizes and more, so nothing gets missed.
Track all your paid liners and their execution times. Assign live mentions to announcers and view or print a report indicating all execution times. Never miss a mention ever again.
RadioPromoHub will automatically email winners prize pick up information using templates you've created! It will also email winners a certain number of days before a prize expires so they don't miss a prize!
View and manage all your resources for station events or live remotes. Assign tasks to specific announcers or street team, directions, assign promo items to take and give detailed instructions on how to execute the perfect event.
Manage one or multiple markets with RadioPromoHub's intuitive creative dashboard. Quickly assign writers and producers to tasks and see everything in real-time. You can also send voice requests and voice request reminders to staff in other markets with ease.
Change the way you do promotions. Forever.
With RadioPromoHub, you get the tools and help needed to execute the perfect promotional campaign everytime.
Contact Us Today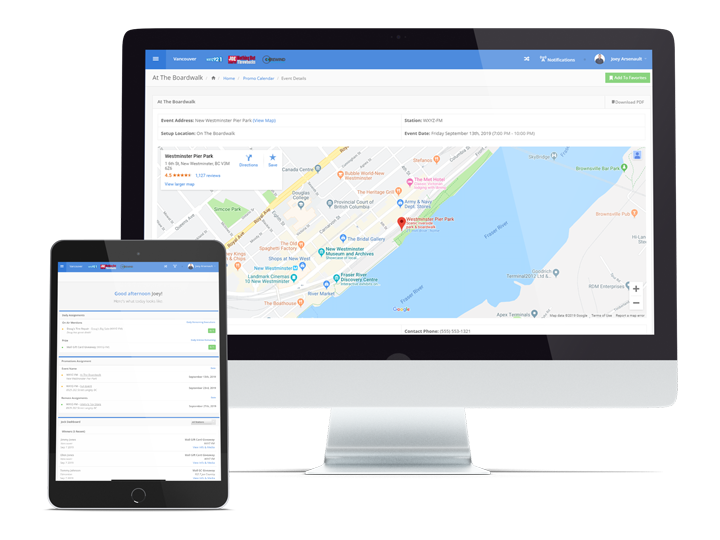 Subscribe for updates and new features!
Want to get the latest updates on new features with RadioPromoHub? Enter your email below and we will send it the latest updates and changes as they come out!
Free Trial
Contact us today for a free trial or demo. We will show you how RadioPromoHub will change how you do promotions.
Email us for more info at
Already in a Contract?
Want RadioPromoHub but already in a contract? We will give you free access until your contract is up!
Email us for more info at